>>> Download: Scarica lo script da GitHub
DISCLAIMER: lo script è stato testato su Veeam Backup and Replication 11, dovrebbe funzionare anche sulla 10, ma non lo ho testato.
Riprendo l'ultimo argomento delle password di cifratura di Veeam Backup and Replication – dopo una pausa più lunga del solito – per andare ad aggiungere un nuovo strumento per il monitor del nostro server di backup.
Nell'ultimo articolo avevamo visto come farci avvisare via email in caso di una qualche modifica alle nostre password di cifratura dei backup. Oggi vedremo invece come poter ricevere su base pianificata – una volta al giorno, a settimana, al mese… – un report con la lista delle password di cifratura e i giorni trascorsi dalla loro modifica, aggiungendo un altro check per la "salute" del nostro ambiente.
Il report ha questo formato: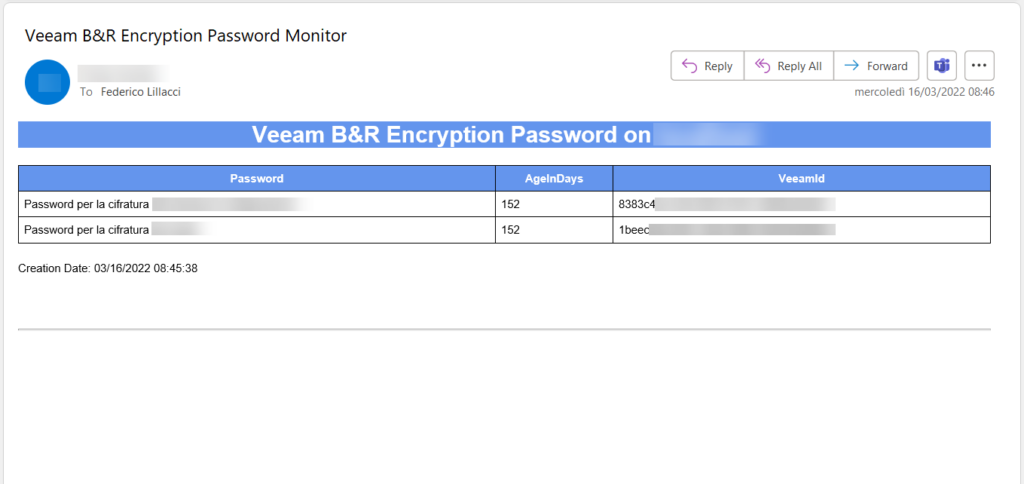 L'utilizzo è molto semplice, non ci sono grandi avvertenze, se non una: va configurato sulla macchina che esegue lo script un Microsoft Secret Store Vault, per immagazzinare in maniera sicura le credenziali usate nello script (per collegarsi alle API del server Veeam e per autenticarsi sul SMTP server per l'invio email).
Per configurare il vault vi consiglio di seguire la comoda e semplice guida che trovate su Adam the Automator: è una operazione che va ovviamente eseguita prima di usare lo script. In questo modo le nostre credenziali saranno al sicuro, cosa importantissima, dato che Veeam purtroppo non permette di avere accesso – anche solo read-only – alle API con un utente che non abbia privilegi di amministratore (speriamo che la cosa cambi presto).
La procedure descritta nella guida di Adam the Automator produrrà alla fine un file XML contenente la master password del vault cifrata: il path completo a questo file andrà usato per valorizzare il parametro $vaultPass.
I parametri $secretApiName e $secretEmailName devono contenere invece il valore della proprietà "Name" ottenuta eseguendo sulla macchina la cmdlet 'Get-SecretInfo' per elencare le credenziali contenute nel vault. Sono rispettivamente le credenziali per accedere al server Veeam e quelle per autenticarsi sul server SMTP per l'invio email. Sulla mia macchina di test sono ad esempio:

Gli altri parametri sono semplicissimi, l'hostname del server Veeam Backup and Replication e i vari parametri del server SMTP per inviare il report via email.
Infine, dopo averlo testato con successo in modalità interattiva, va schedulato lo script con il Task Scheduler di Windows o con altri strumenti di terze parti.
Spero possa esservi utile: trovate come sempre lo script su GitHub.